Are you organizing the company picnic or an employee appreciation event? DFW Ice Cream is a full service ice cream supplier with ice cream trucks and ice cream carts to make your next event simple, easy and affordable.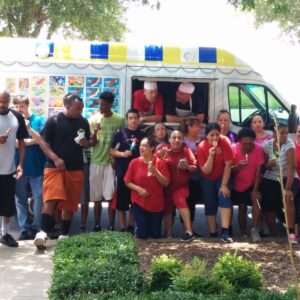 With a selection of over 25 items to pick from, our ice cream menu is designed so that we can accommodate everyone — we have ice cream bars under 100 calories, fruit bars, diabetic bars, fat free options , vegan options, non- dairy options and some really outstanding ice cream bars for those looking to indulge.
DFW Ice Cream specializes in employee appreciation events and company picnics. We have served thousands of corporate customers in Plano, Dallas and Fort Worth. We do all the setup, passing out the ice cream, and a quick site cleanup. Everyone will be happy, and you don't have to do any of the work! Just sit back and enjoy the event.
If you would like more information, please feel free to call or email us at any time.